Gibson Les Paul Custom '68 VOS
My 2007 Gibson Les Paul Custom, 1968 VOS.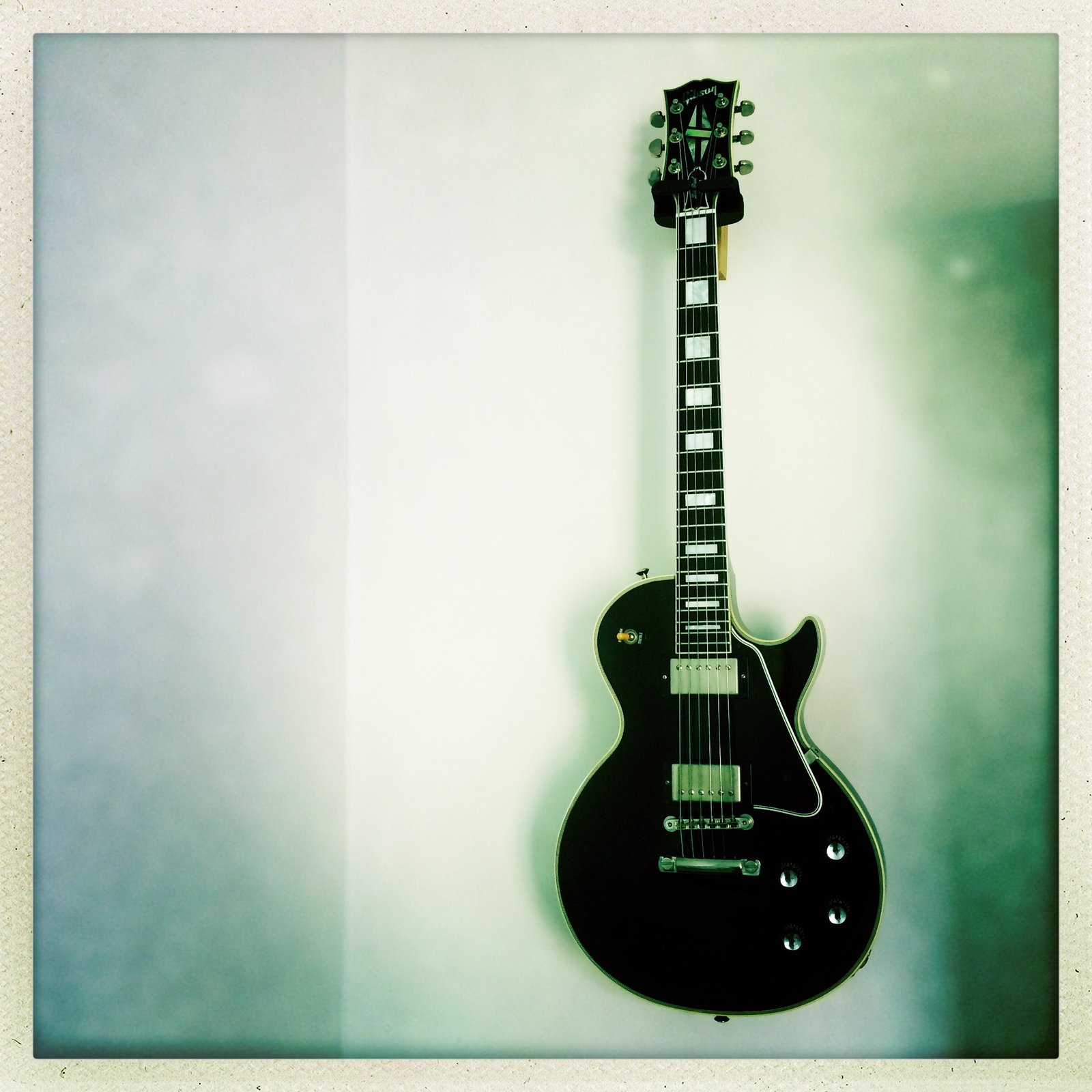 This is a special one for me, having seen photos of all of my heroes playing Gibson Les Paul Customs, I knew that I needed to have one.
I bought a 2003 "standard" custom many years ago and loved its double bound body and headstock, ebony board and all that fancy stuff that comes with such a prestigious guitar, but something's weren't quite to my liking, the standard custom guitars came fitted with 490 and 500T ceramic humbuckers which sounded OK but were the same units used on the cheaper studio guitars, these pickups are actually very well suited (in my opinion) to the SG or Flying V guitars, which may have something to do with the construction of them. Anyway, they sounded shit in the Custom and I sold that for something else a long time ago, also, gold hardware is something I've always struggled with…just looks cheap.
I went without a custom for many years until I formed a slightly heavier band with some old friends, this band called for another custom and the hunt was on. This band initially began with me experimenting with an original 1969 Dan Armstrong plexiglass guitar, then a custom shop DC Les Paul junior before I realised that a Les Paul custom was going to be the only guitar that would suffice.
The things I wanted from a custom were, black nitro finish, chrome hardware, 57' humbuckers, grover kidney bean tuners and top hat control knobs. After doing a Google image search for these specifications, an image of my dream custom came up, following the link I was directed to a shop called Vintage and Rare Guitars in Bath. I checked the site and the £2.2k price tag and debated in my head if I could justify it, having sold the Dan Armstrong for a tidy profit I called the shop…still in two minds as this guitar would completely clear me out of money for the foreseeable decade…during the phone call the guy told me that they had two 68' VOS Les Paul customs in and one played slightly better than the other for some reason.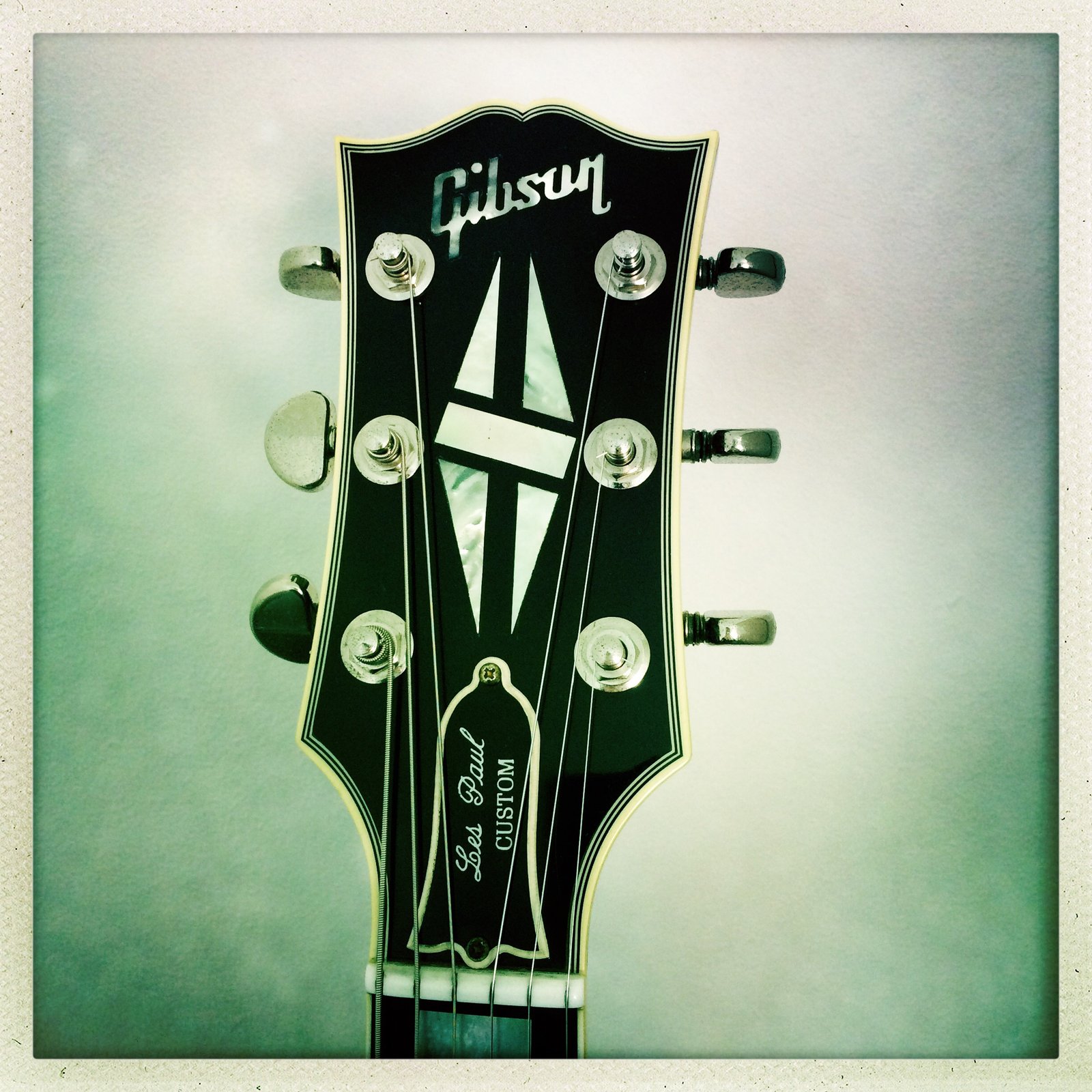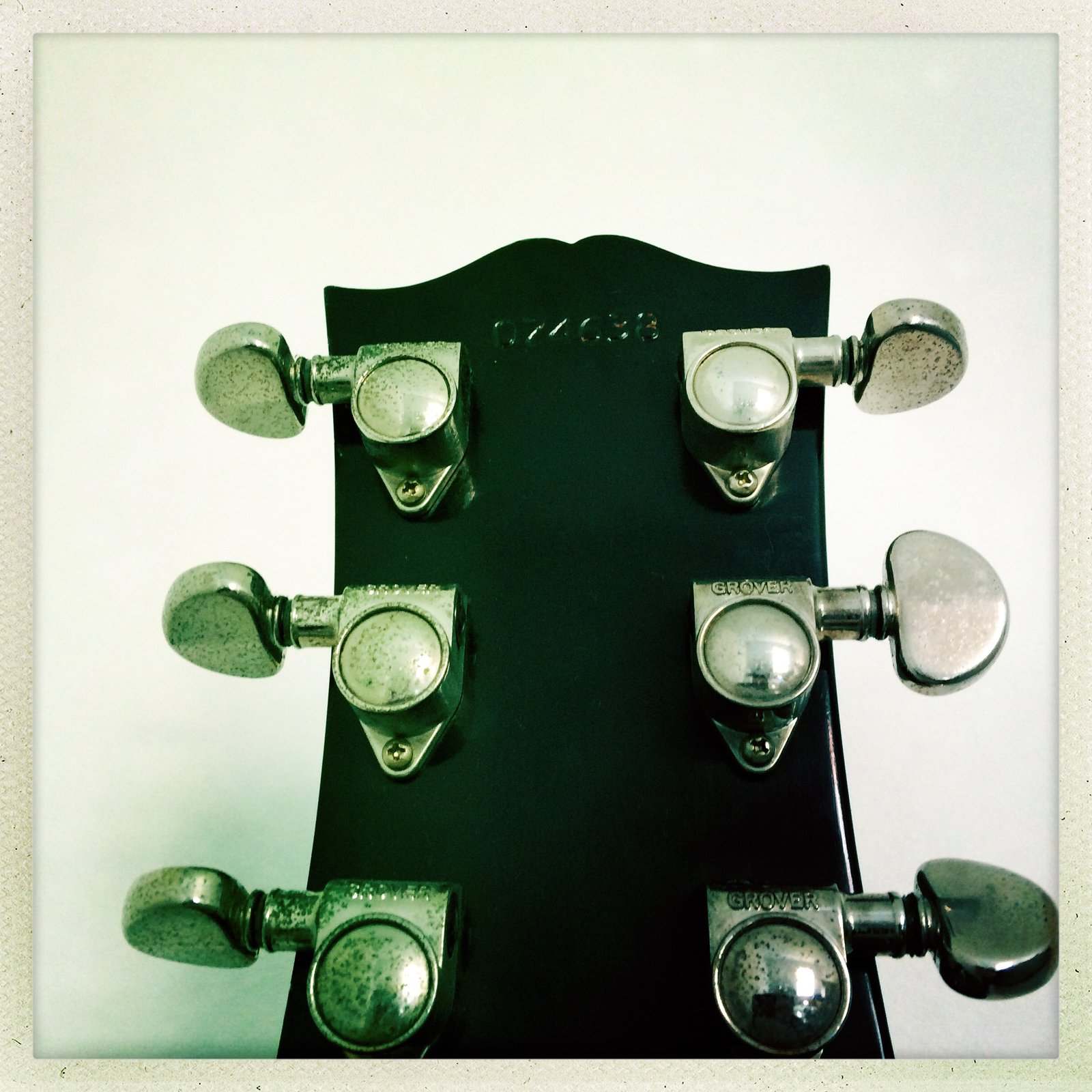 The call got to the stage where the salesman said, "you need to come and give it a test" after telling him how far away I was from Bath, he offered to send me the guitar, take my card details, if I liked it, I could keep it and pay, if not, he'd get it collected and no harm done. How could I lose?
Not 24 hours later, a big Gibson box arrived at work, I popped it open and gazed at it for a good ten minutes, plugged it in and the guitar sold itself, I called and said "take my money"
I made one alteration to the guitar in the first year, that was to replace the plastic input jack with a chrome one for added strength as all the plastic ones I've had just break within months. I also added some Dunlop strap locks for the obvious reason…also, I use these as if you forget the strap with the locking mechanisms on, you can use any strap and not worry so much as they're substantially bigger than normal ones, especially original Gibson ones, don't get me started on how shit they are…
The guitar was swiftly transferred to an aluminium flightcase and used solidly for 2 years, picking up plenty of gig-battle scars and marks along the way. The overall construction of this Les Paul is odd, it has a standard mahogany neck and body but unusually (for a custom) it has a period-correct maple cap body and longer neck tennon which I can only assume adds more sustain? Anyway, other than that, it has a great ebony board, slightly yellowed lacquer which in turn shows up most on the binding. You can see the wear on this on the site where my arm has rested over the years.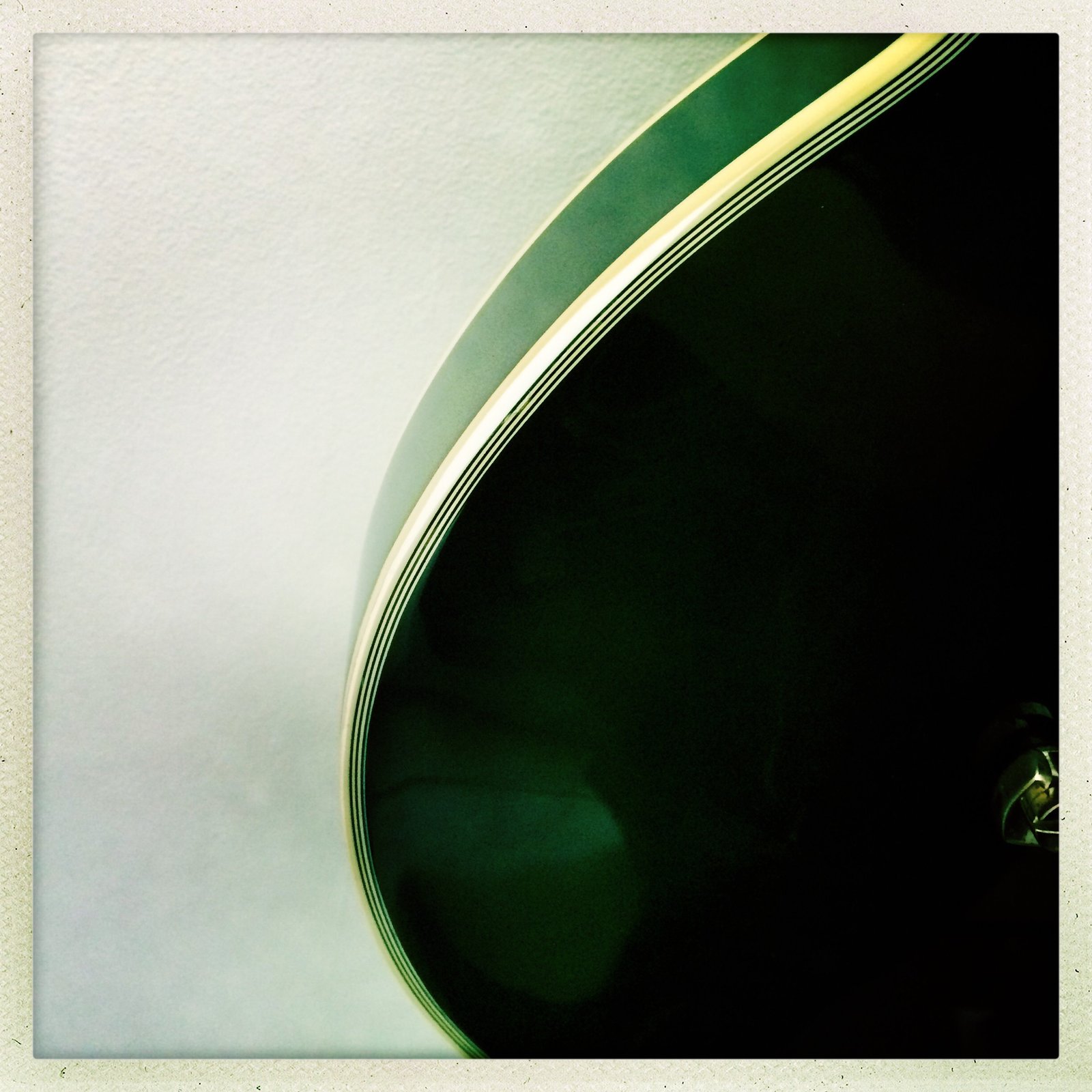 The hardware is nickel and hasn't aged particularly well, due to it being unfinished it does attract oxidisation from the atmosphere and my hands. The stop bar and ABR-1 bridge are very nicely made, the stop bar is a very lightweight aluminium unit which does allow the guitar to sing acoustically and is an upgrade I heartily recommend.
One other bit of "mojo" is that Tony McPhee from The Groundhogs signed the underside of the pickguard too…eccentric man indeed.
Once the band split, the guitar was sold/loaned to a good friend of mine for another 2 years where it basically lived in its case. When I started up another band, my friend coincidentally asked if I fancied it back, after another long-winded deal, I had the custom back which even had the same strings I put on it all those years back!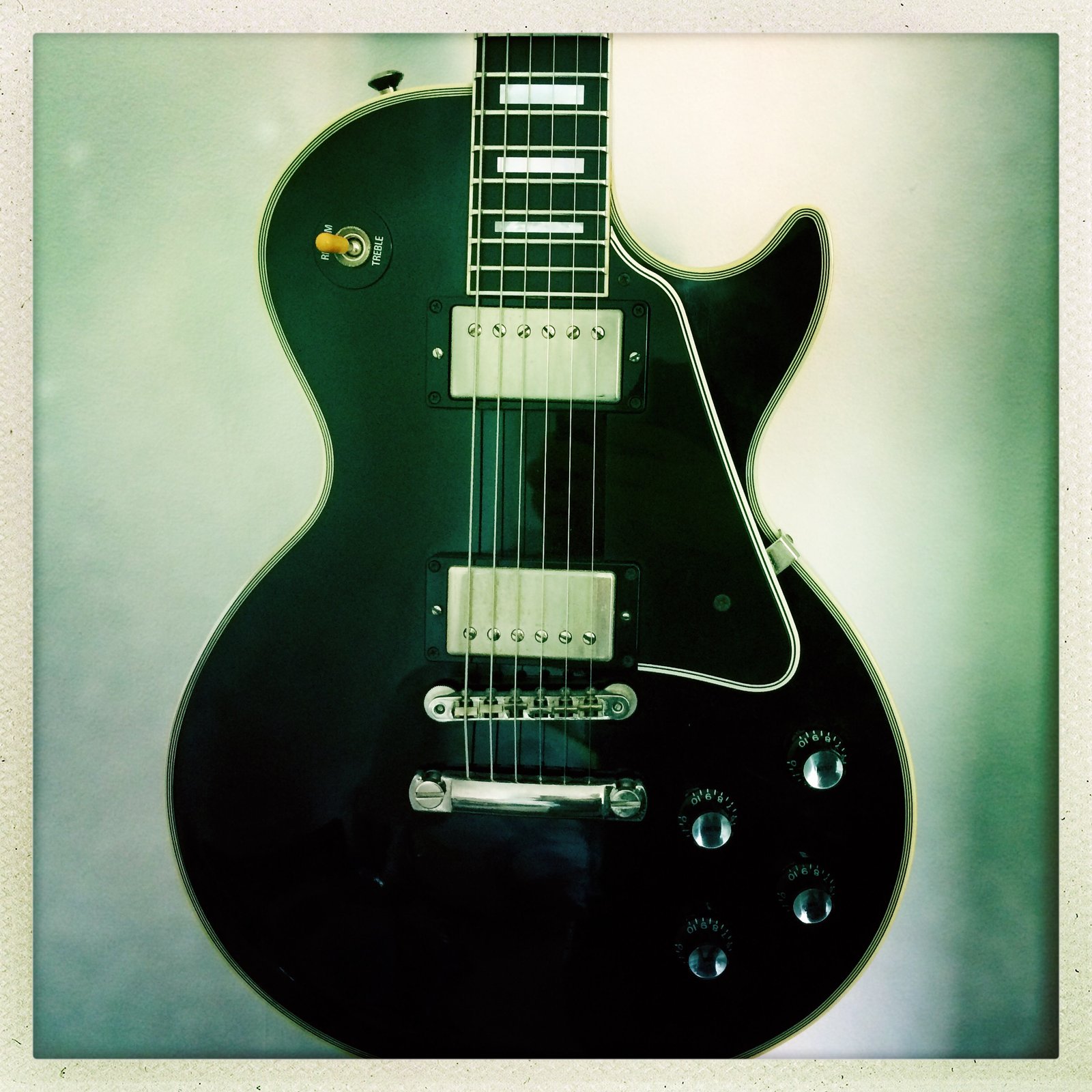 Always being one to mess with my guitars, I investigated what capacitors were in it, they appeared to be very small, cheap caps which you would find in an Epiphone guitar…custom shop eh? Vintage Original Spec eh? So, out they came and were replaced with big paper-in-oil Jensen caps (best I've found) the guitar came to life again, like and old friend. It's now used during winter months in the band to save on fret-wear, I use a standard too, this one will feature soon on here I hope.
I'm also toying with the idea of changing the 57' bridge pickup to a humbucker-sized P90 but, maybe not just yet.