2011 Gibson SG Silverburst (ltd ed.)
I have a big part of my heart reserved for SG's, the influences of Hendrix, Iommi, Young, Krieger, McPhee, Marriott and many more have meant that I love them. What I don't particularly like is the fact that they are 9 times out of 10…cherry.
Now, I remember back in 2007, when Gibson had their famed "guitar of the week" series. They ran a bunch of seriously cool-looking SG's in the marmite of Gibson finish, the Silverburst of the late 70's.
The finish was rumoured to have interfered with the pickups due to the high metal content in the paint, was discontinued and bought back with its cult following of Adam Jones from Tool and numerous other "metal heads"
Anyway; I scored a guitar of the week about 5 years ago, it was a good guitar, but was essentially just an SG standard with an ebony board and Grovers. It didn't stay with me too long as I couldn't get on with the huge neck that all SG standards have.
Recently, one of my guitar students asked my opinion on what the ideal guitar for him would be. After numerous texts and links were sent back and forth, I mentioned that Gibson has done an SG in silverburst, since then, that, or a Les Paul Custom in silverburst was the guitar for him.
Back in 2011, Gibson did a second run of Silverburst SG's, this guitar had…
Slim 60's neck profile
Burstbucker 3 pickups
Coil tapping on both pickups
Omitted were the ebony board and Grovers…you can't have it all.
This time round, I had no chance of affording the £1299 price tag, it was a limited run so unlikely to come up second hand and besides, I'd already had one and moved on.
So, whilst looking through Facebook groups, I found one! It was untouched and ready to go. After speaking to both parties, I was on my way to Llangollen to inspect it for my student…and potentially buy.
I had many doubts about the build quality of any Gibson guitar post 2006/07 as all the ones I'd tried seemed to be slightly poor in construction.
This one…certainly wasn't.
Not only had it not been touched for 5 years but it still had the cellophane on the pickguard and the original strings on it!
The deal was done and it was in my car traveling back to Chester.
After discussing the overall guitar with its new owner, we decided that the guitar, although new, would look better with a 3-ply pickguard and a set of Rotomatics…so it came back to me for a an afternoon of tinkering.
1. Guitar as is, single ply guard original tuners (good units, just cosmetically gross)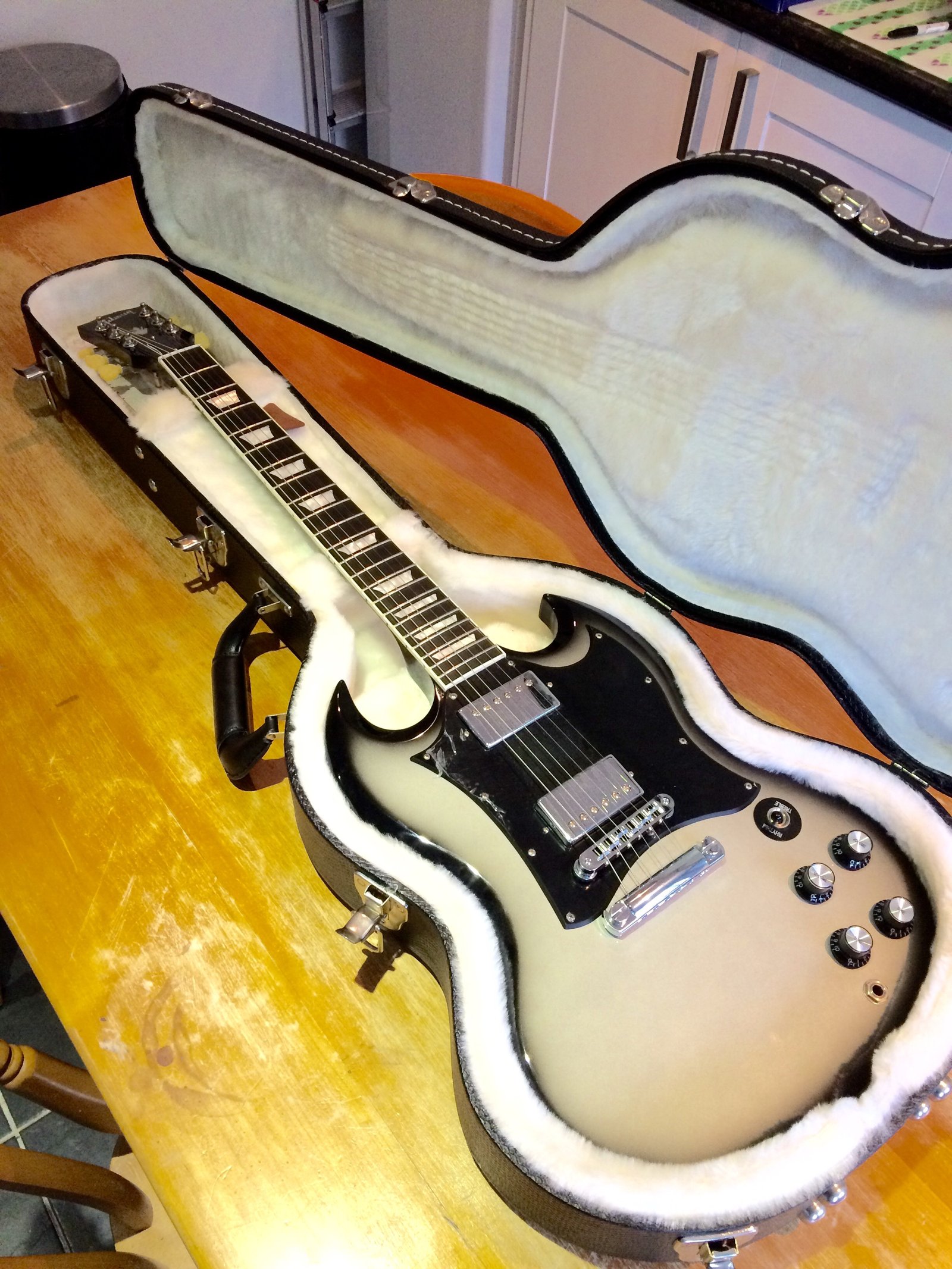 Kluson Deluxes too, that yellow tulip key just does that headstock no favours…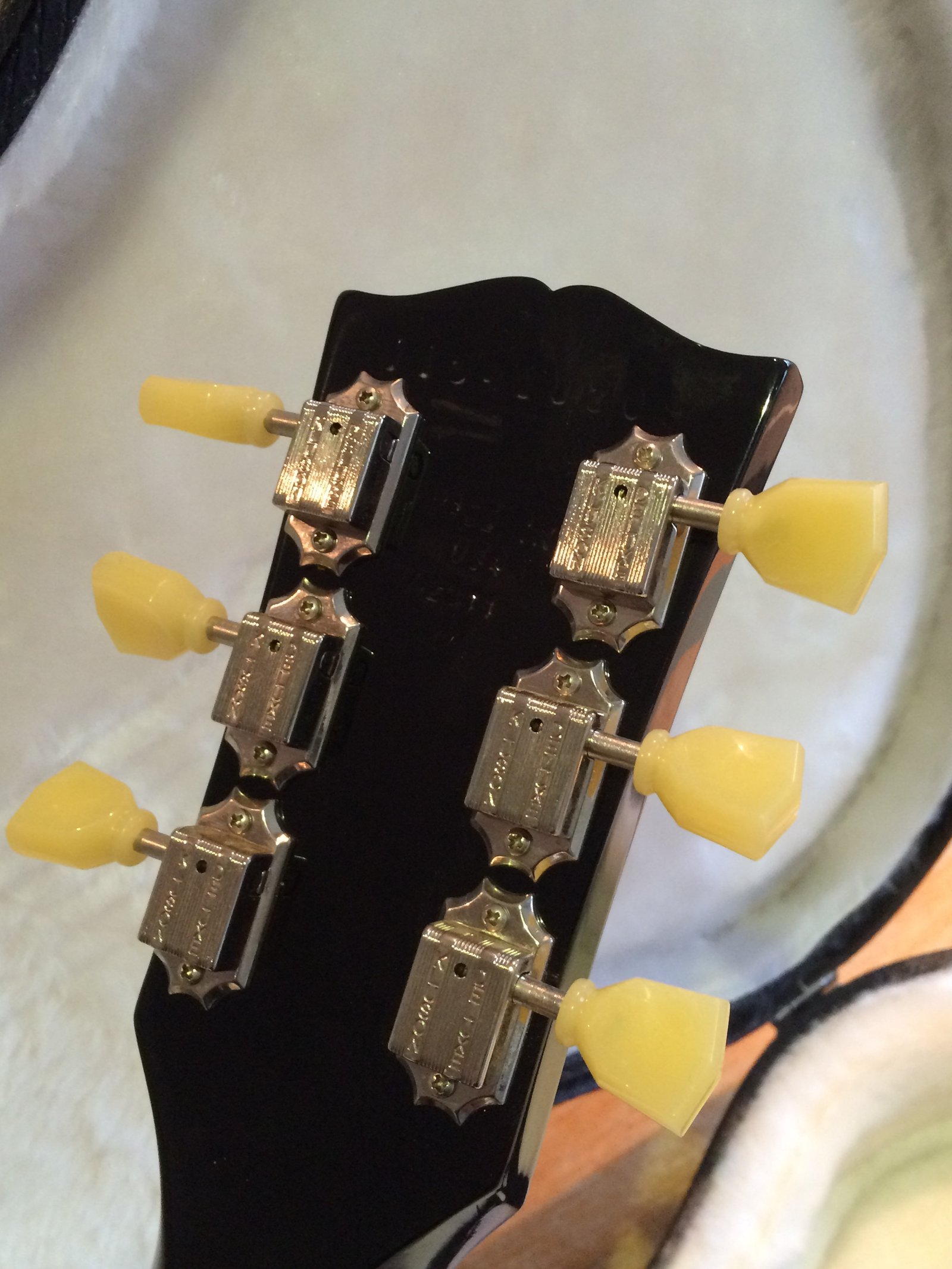 So, work began.
The new guard needed some work to fit.
Frets polished, rosewood board oiled…

New 18:1 Grover Rotomatics installed…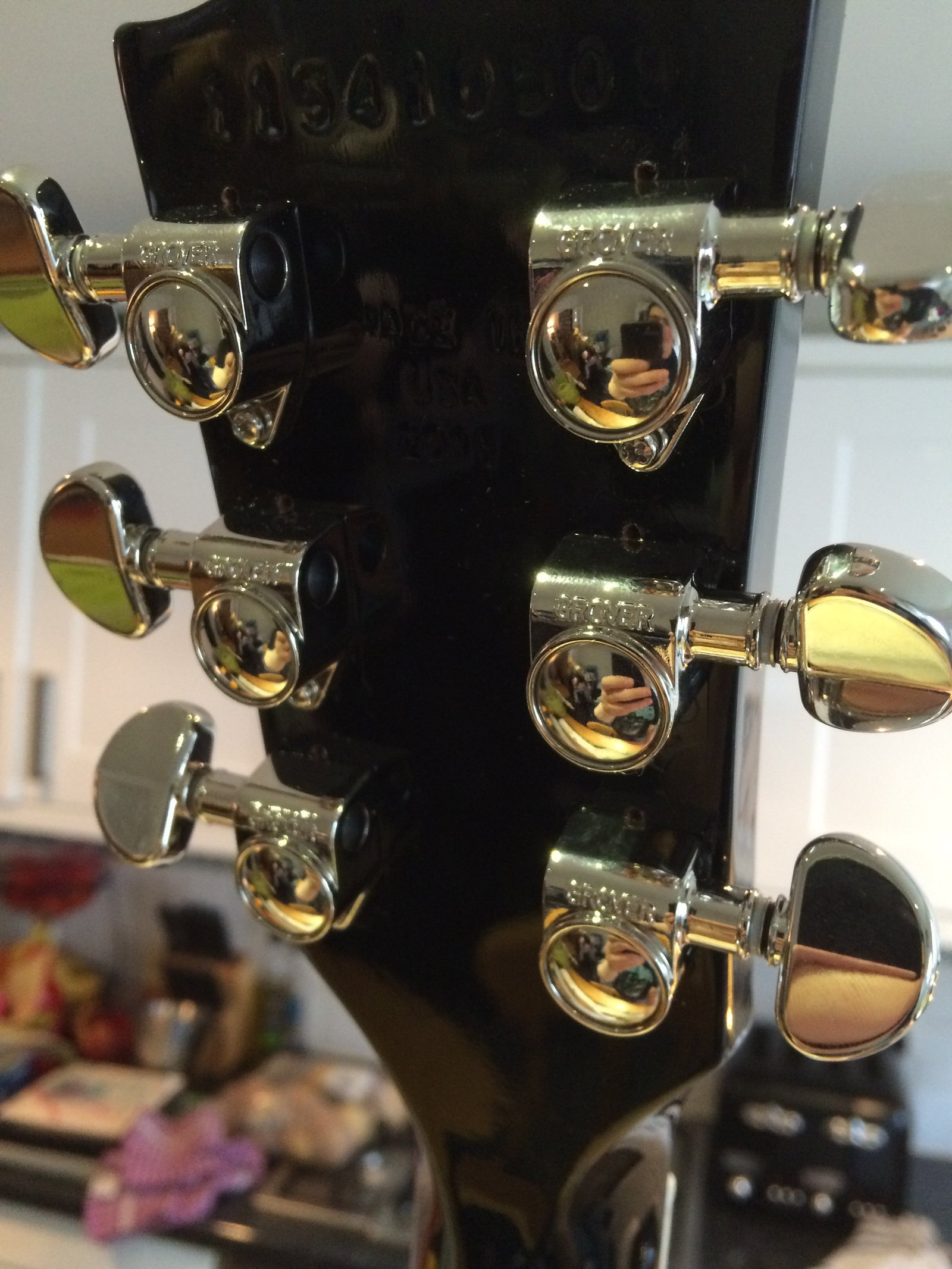 (Excuse the selfie in the reflection!)
Here's the Burstbucker 3, dated from 2011 with the ever-cool Patent Applied For decal…PAF. Nice.

A clean set of 10 gauge D'addario XL's, intonation, action and polish…
This guitar has no intention of being sold again…worst luck.