1994 Gibson Les Paul Studio
This is quite possibly the guitar that I feel more regret than any other I've had and sold. I got it around 2003, and I can't remember any of the circumstances around getting it – those were very hazy days.
There was nothing particularly unique about it; an as factory USA studio in black with gold hardware. The lacquer on the headstock, as was common of Gibson's of the time, had bubbled and split.
It just felt "right" to play it, it had that "thing" that can't be described. I played in a hardcore punk band called Blades of Unity at the time, and I couldn't have found a better guitar for the job.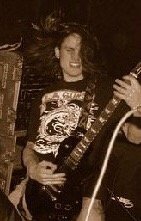 Unfortunately this is the only photo I still have of this guitar.
The rhythm guitars on the Blades of Unity record were all recorded using this guitar. It was released by London's Rucktion Records.