Fender HLE Stratocaster 1989
1989 Fender Custom Shop H.L.E. Stratocaster
Here is a very special Stratocaster, back in 1989 as the Fender Custom Shop opened it's doors, the plans were made to make a limited edition Stratocaster in honour of Homer Haynes who was part of a musical, comedy duo 'Homer and Jethro' in America back in 1957.
Haynes being a guitar player, had custom-ordered a gold Stratocaster with gold plated hardware directly from Fender in 1957.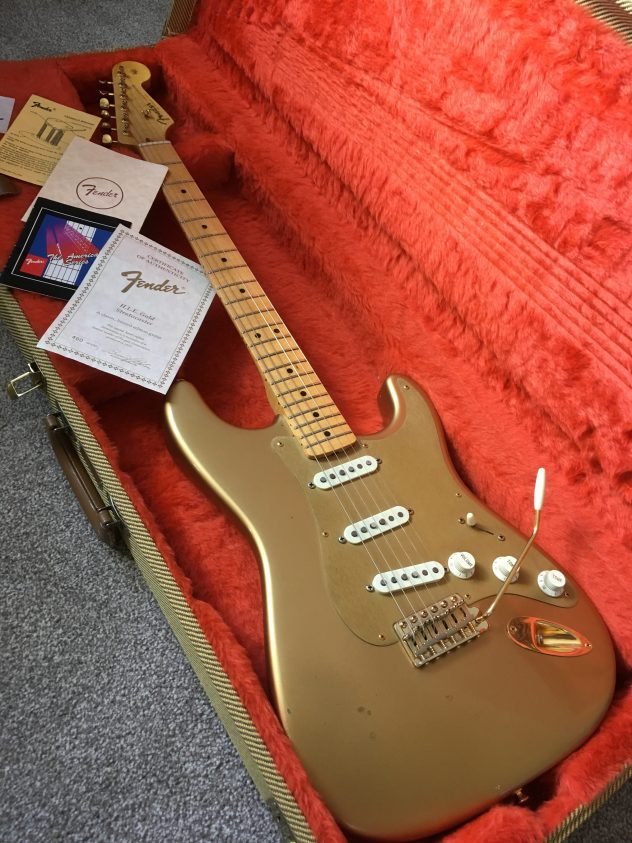 It seemed fitting that Fender should replicate this when the Custom Shop facility should become a reality.
This guitar I have here is number 460 of those first 500 guitars that left the Custom Shop back in 1989.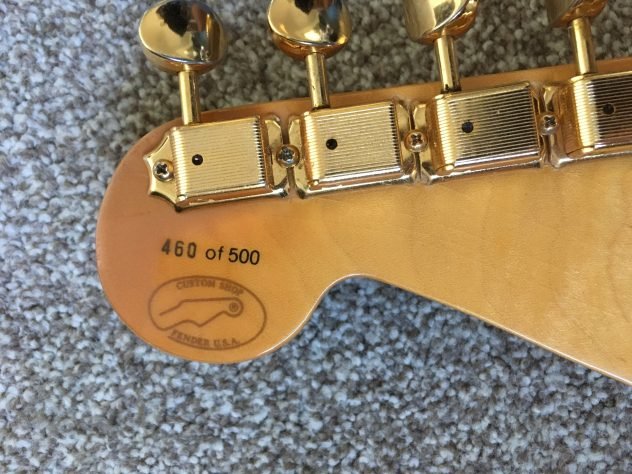 This specific guitar is likely to have been handbuilt by John Page and Michael Stevens . 
A genuine and pioneering 'masterbuilt' guitar, if you will.
When the 500 Haynes Limited Edition Stratocasters left the custom shop back in 1989, they were built as close to the famed, gold 1957 Stratocaster as possible, solid two piece alder body, single piece maple neck with 7.25'' radius, vintage frets and small headstock.

Hardware came gold plated as per Haynes' original model, electrics wise, there are three beautifully musical single coil strat pickups, CTS pots and an oak grigsby 3-way switch, all mounted to an anodised pickguard. 

The guitar you see pictured here has been used, used enough to prove it being a popular instrument, as in one that is a joy to play.
It has had its switch changed to the 5-way switch that would have originally come separately in a clear plastic string packet, it has lost its original ashtray bridge cover (not that it's ever been of use!) it doesn't have its vintage strap or lead either. 
Wear-wise on this guitar the body seems to have taken the brunt of the years, with the guitar being handbuilt and the period correct finishes used, the gold has suffered the most due to its soft nitrocellulose finish. 

The worst of the finish damage is shown on the photos provided. However, the paint is slowly starting to get that ever-cool green tinge as seen on battered Gibson Les Paul goldtops…beauty is in the eye, as they say. 

Despite this, the neck and fretboard are in great shape, showing little to no wear on frets and board. There seems to have been a minor finish repair on the top of the headstock hence the darker lacquer.
 The overall shape is comfortable, very soft V unlike the other 57' reissues that have the harder, more defined V shape.
Guitar is sporting a set of 10's and is just a dream to play, not only is it the 460th guitar to have left the ever popular Custom Shop back in 1989, but it is also a guaranteed investment not only to collectors but mainly for the collector that can and likes to play the guitar properly.

Case wise, this is the original tweed case that came with the guitar back in 1989, identified by the softer, furry lining. Other accessories include the original gold plated arm, certificate, booklet and cloth label.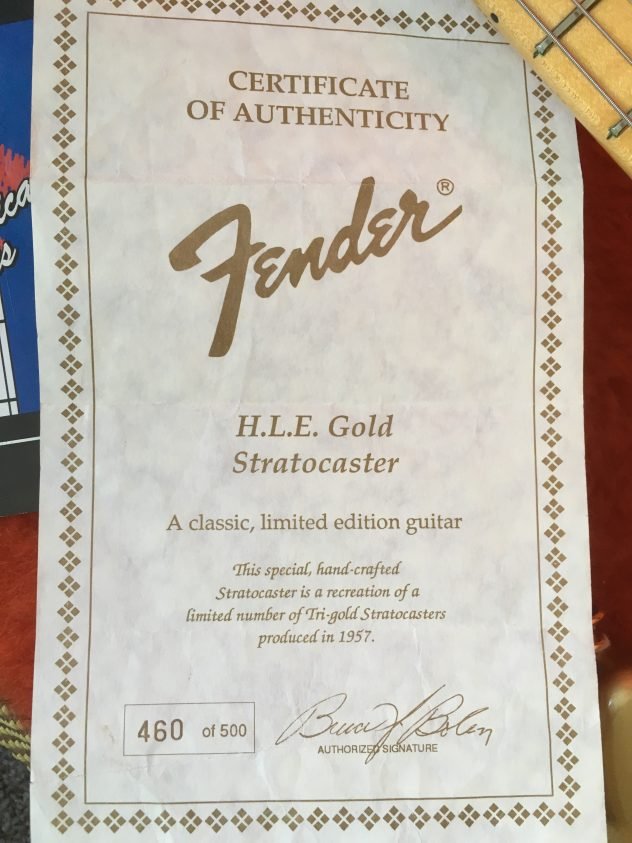 This guitar has a fair bit of sentiment to me as I grew up around it.
My father owned this very guitar from 1996 to 1998, it was sold at a guitar show as I recall, now, 19 years later it's back with me.
Strange how things turn out.