1996 Squier Korean Anniversary Stratocaster
One of those cheap gems…
First a little history of me and (the lack of) Stratocasters in my life. I've never liked them, not one. When I worked in a guitar shop for most of my twenties we had a rack of USA Fenders and never did one stand out as something I'd ever play myself.
Don't get me wrong, I'm not a Strat hater, Fender have made some beautiful looking Strats and obviously some of the greatest songs of all time have been made using them. I just never found one I personally liked to play, simple as that really.
I got this Squier in a deal with a ruck of other cheap low end guitars. Nothing particularly stood out about it amongst the pile to be honest, and other than the 50th Anniversary headstock decal giving away that it was a 1996 model I didn't really pay it much attention.
It was only when I started working through each one a few days later that I noticed a few things – the weight of it to start with. This thing is approaching Les Paul weight, due to the solid thicker Korean body. Within ten seconds of picking it up I knew it was one of the very few guitars I'd actually be keeping. The one piece maple neck is simply outstanding. The notes just jump off the fretboard when played unplugged, with a bell like chime quality.
The pickups/wiring obviously showed some shortcomings; a thin weak typically cheaper tone emitted from the amp. The factory tuning pegs were also incredibly cheap, in appearance and functionality. My attempts at Jeff Beck's trem bar abuse mean rock solid tuning is pretty essential.
I really begrudge spending good money on cheaper guitars as a rule, as although odd things can increase the guitar's resell value many upgrades never recover a decent enough return on their initial outlay. This guitar just has that something special, that you rarely find in any price bracket of guitars; you just want to play it, again and again.
So, the upgrading and modding continues to this day. This guitar is just a delight to play, and sits comfortably next to guitars worth more than ten times over.
As I bought it, untouched by tinkering hand: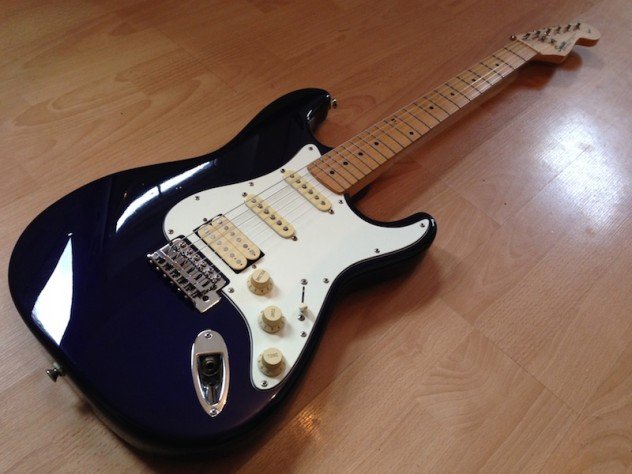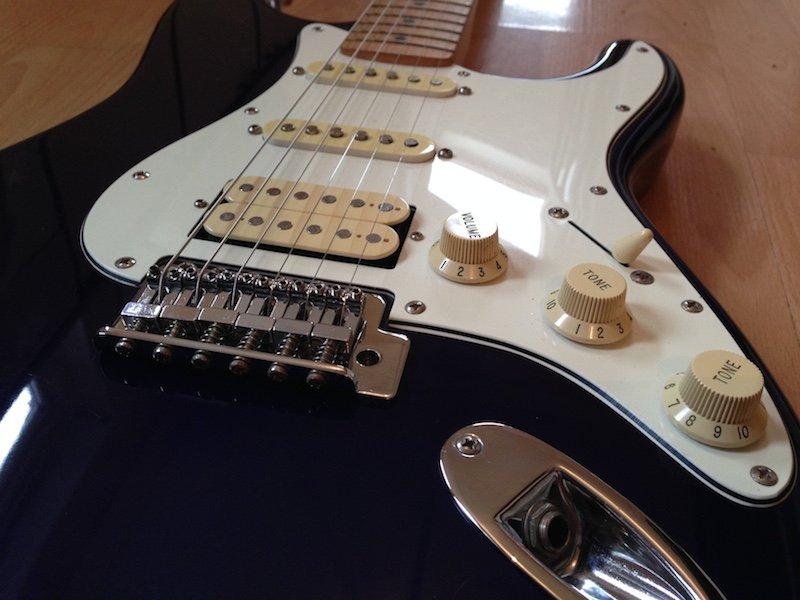 First round of Modifications
Sperzel USA Locking Tuners
Fender Roller String Trees
Stainless Steel Bridge Saddles
Seymour Duncan Jason Becker Perpetual Burn bridge
Dimarzio Cruiser hot rail middle
Seymour Duncan Quarter Pounder neck single coil
Wired for 1 master volume/1 master tone/5 way switch
Fender neck back plate
Black strap buttons
Vintage soft steel trem springs
The first pickup incarnation – SD Jason Becker bridge, SD Quarter Pounders neck & middle: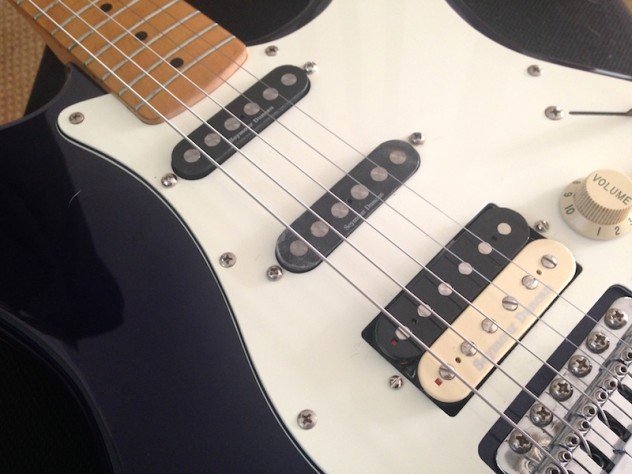 Second Phase of Mods
DiMarzio Cruiser mini humbucker in the middle position.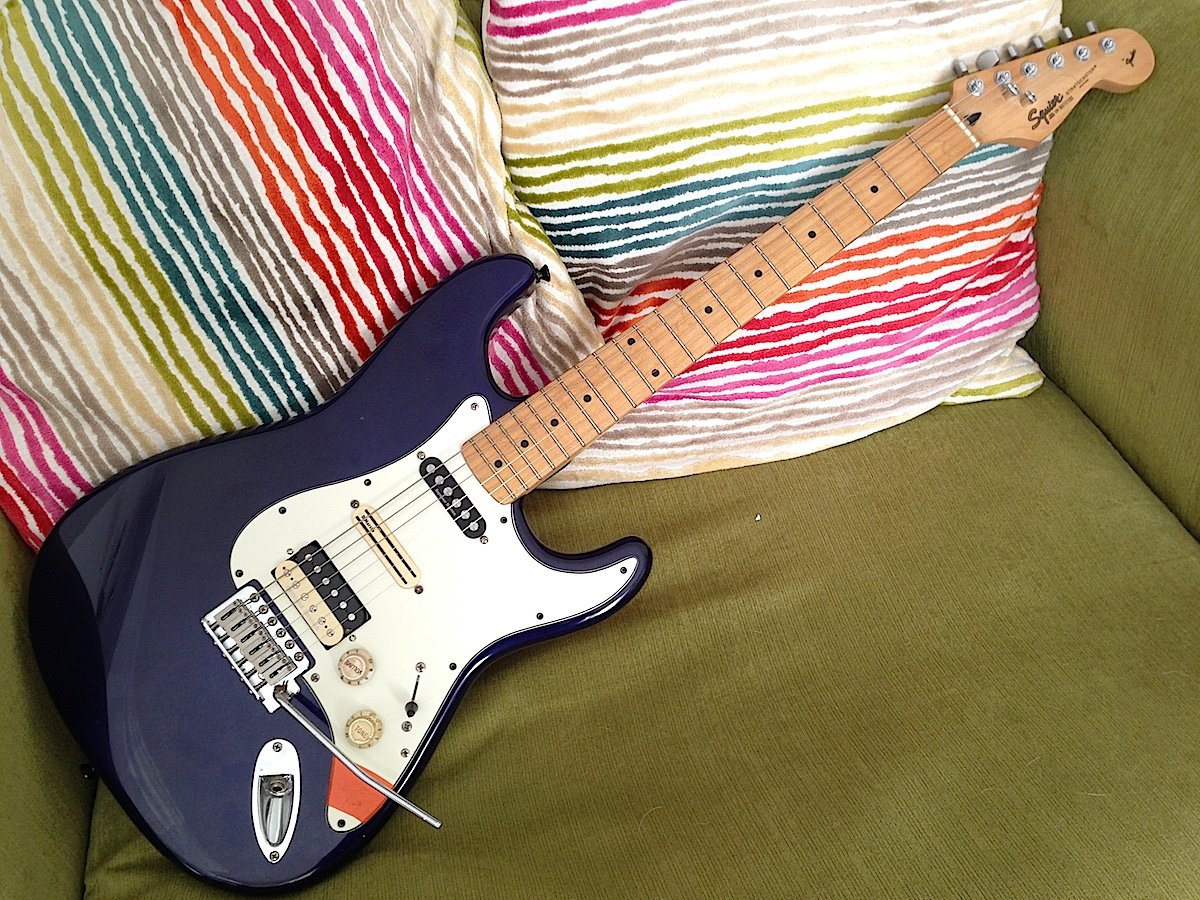 Neat and tidy wiring: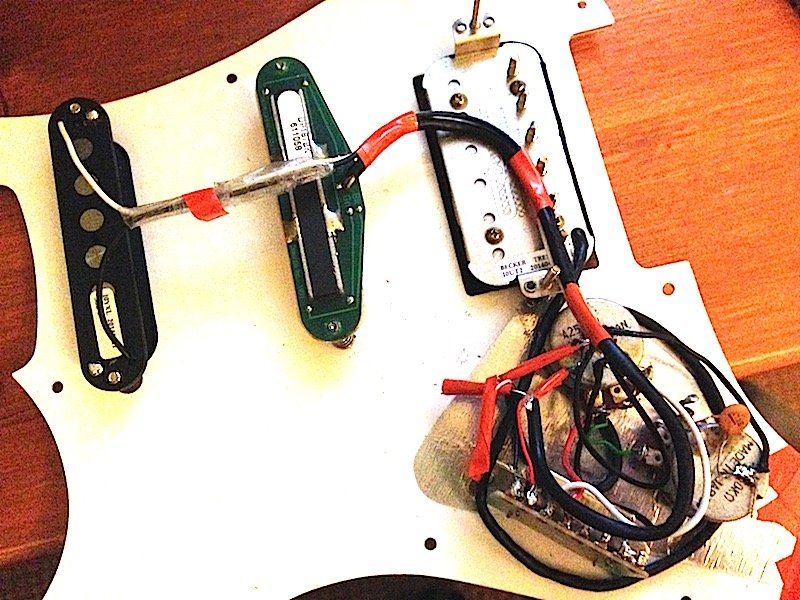 A rough sound sample with this pickup/wiring configuration:
Third Phase of Mods
Seymour Duncan quarter pounders in bridge and neck, DiMarzio Cruiser in the mid position. Scratchplate to cream pearloid.
Fourth Phase of Mods
Regular single coil in between the Quarter Pounders, wired out of phase. Volume & tone dials changed to black.
Fifth Phase of Mods
New tiger print scratchplate with Telecaster wiring set up: Seymour Duncan 1/4 Pounder in the bridge, Ibanez INFS1 in the neck. The Ibanez, although being a stock pickup on their lower mid range guitars, is made to work in between two humbuckers. It's a really good match for the high output Duncan. Black jack socket also added.