1993 Patrick Eggle Berlin Pro
One of the best guitars I've ever played, never mind owned.
It's been hacked at, reshaped, thrown across stages, dropped countless times, had more pickups than a hooker and more.
Worst of all for it, I've played it more than any other guitar I've ever owned.
Let's start at the beginning…
I got this guitar through pure good luck.
Eggle Berlins were guitars that I dribbled over in guitar magazines as a teenager. They were guitars that only existed in fantasy land, where paying £2,500 for a guitar seemed a few million lights years away.
Fast forward to a late summer's day sometime around 2004, sat behind the counter in a stuffy guitar shop just wishing the minutes away till 5pm so I could have a blaze and a pint in the sun.
A rather scruffy chap, sweating profusely, stomped through the shop door and announced "I want you to buy this" whilst unwrapping a horrible off-yellow guitar from a few scraps of bin bag.
Mike didn't even look up! "We don't buy guitars mate".
If memory serves me right it was about this point that I noticed the name on the headstock. And then the ebony board. And then the locking Sperzel tuners.
To cut a long story short, the sweaty chap started his pitch at about £500, which in itself was a very good price, but with just the gentlest of negotiation we agreed a much lower price. I couldn't get to the cash machine quick enough!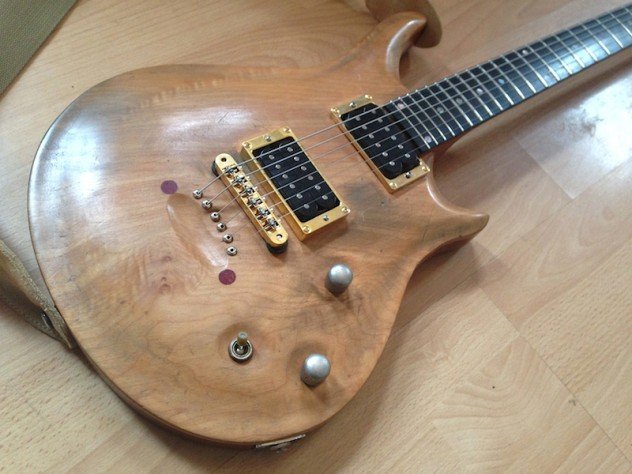 This was made for me…well, nearly
This is an incredible instrument. The mahogany body is perfectly shaped for sitting or standing. The neck/body balance is weighted beautifully.
The ebony fretboard is smooth and effortlessly enhances legato playing. The frets are wide and chunky, although at some point I had the last 5 frets changed for Tele thin fretwire. The thinking is that this gives those higher register notes more punch. The difference is noticeable.
The neck is just a joy. A tight round neck radius mean it just becomes part of your hand, while the narrow string spacing allows for quick sweeps and alternate runs.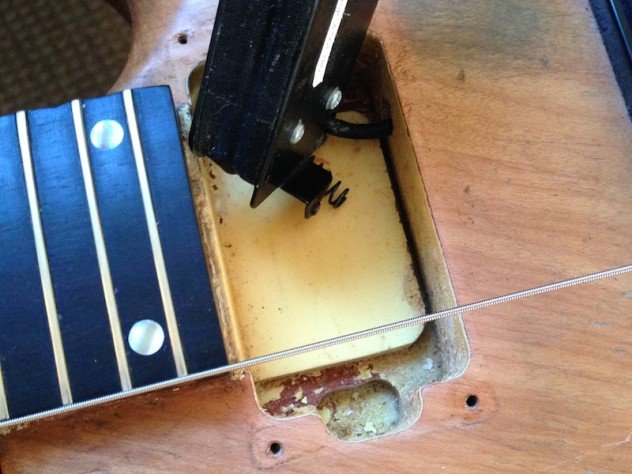 Where did the paint go?
The first "mod". It had to be done really. I maybe should've just thought about how to go about it first.
The disgusting off-yellow original paint can still be seen; in the pickup cavities and some flecks I never bothered to remove around the neck pocket. This photo is from a show I played with Blades of Unity before the finish was removed.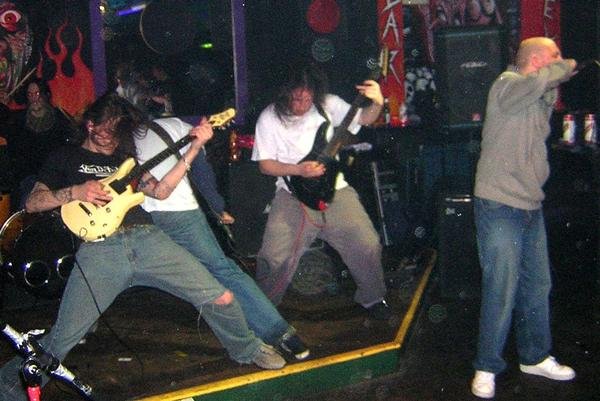 99% of the paint was removed over the course of a week, on the counter in work, by flathead screwdriver. The off-yellow paint flecks were still showing up weeks later! In this photo from sometime around late 2005 you can see the top has had the finish removed but the headstock, sides and (presumably) back weren't done at this point.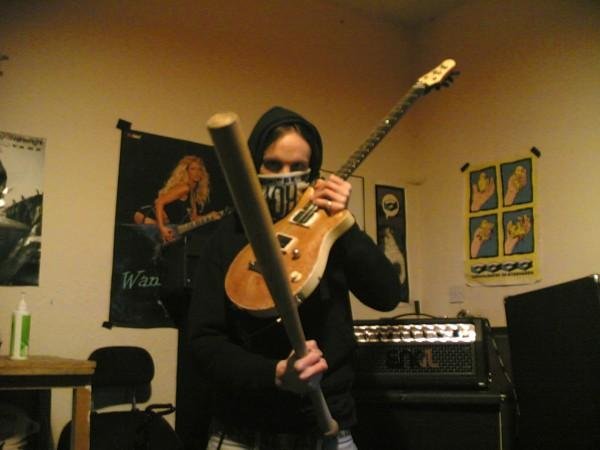 The body has never treated or oiled since the paint was chipped completely off. The dark patches are just dirt and grime from playing the damn thing for hours and hours and hours.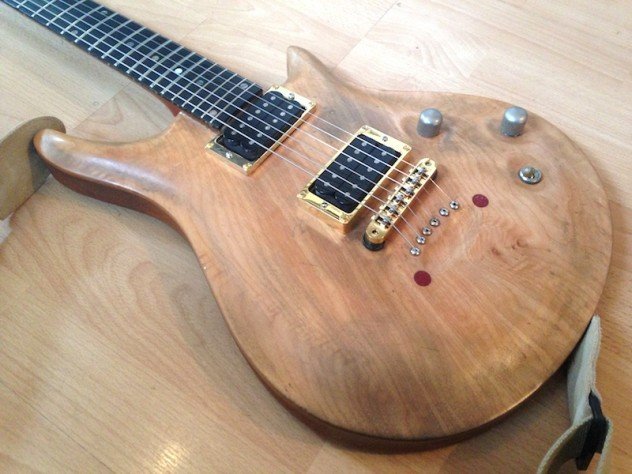 A bridge too far?
The bridge is another long story with many turns, in search for the most amount of string tension possible.
I found that the steeper the angle of the strings coming off the bridge saddles, the more Iiked the feel of the strings to play.
Originally a standard bridge/tailpiece, Les Paul style
Reversed the tailpiece, body carved to allow lowest possible mounting
String thru holes drilled
Tailpiece stud holes filled and capped with crushed blood jasper stone
It currently has a roller saddle LP bridge.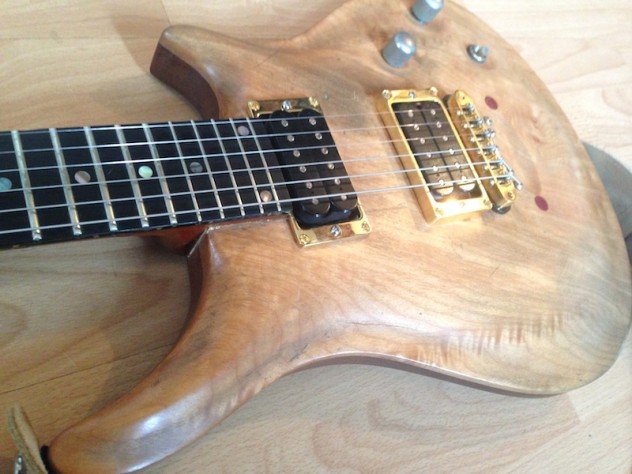 Pickup lines
I've had so many pickups in n out of his guitar I couldn't even remember them all. Some of the highlights:
DiMarzio Evo neck
DiMarzio Evo II neck (my favourite neck pickup to this day)
Seymour Duncan Lynch Screamin Demon bridge
EMG HZ bridge (this passive EMG actually lasted a long time, really suited it)
Matched 1979 DiMarzio PAFs (currently installed)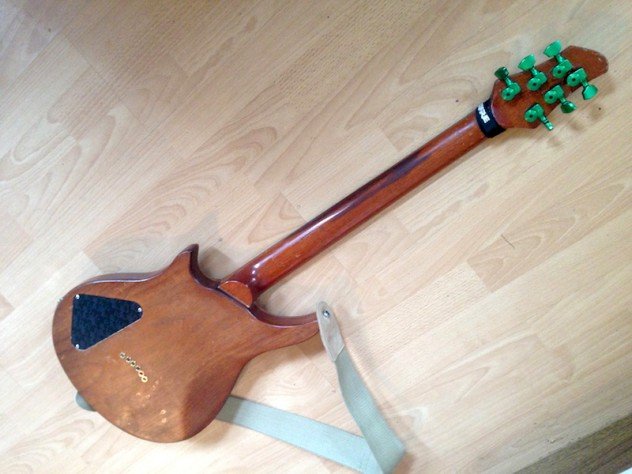 Mods mods mods
Lower horn – the lower horn of the body had a fair portion removed to help access to the higher frets.
Control layout – my biggest Eggle "gripe"! Volume, tone, 3 way switch at the back – not tone at the back!
Re wire – Japanese made pots, all vintage cloth covered wiring, Switchcraft output jack.
Tuners – it came with chrome Sperzels, it had black ones for years and it now has bright green.
Pickup surrounds – new gold plated solid steel surrounds.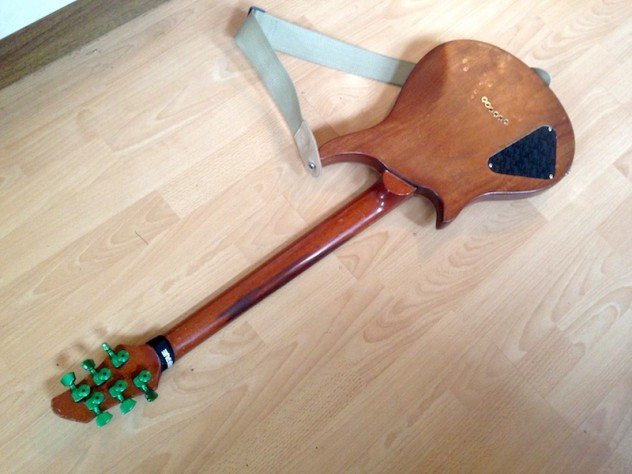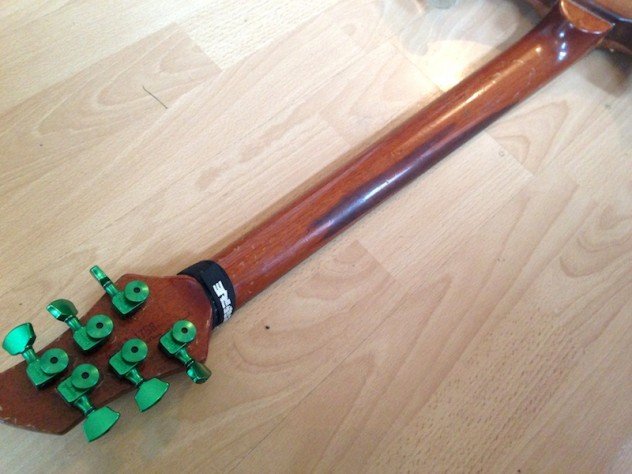 Photo update Feb 2016:
At the time of taking the photographs the pickups installed were a passive EMG in the bridge and a G&Co Alnico humbucker in the neck. After restringing the last few times before this photo I'd been rubbing the lemon oil soaked rag (from cleaning the fretboard) over the maple body. It strangely came up quite nice.
In use live.
I used this for a lot of shows, this video is live in Belgium playing with Heresy of Thieves.