1990 Gibson Flying V 67′ reissue
Where to start with this one…back in 2008 I was in the mood for a new guitar (like most of us, weekly) I had a Les Paul, I had a Strat what could I get that would be "different"
After a few days searching online, I stumbled upon this advert…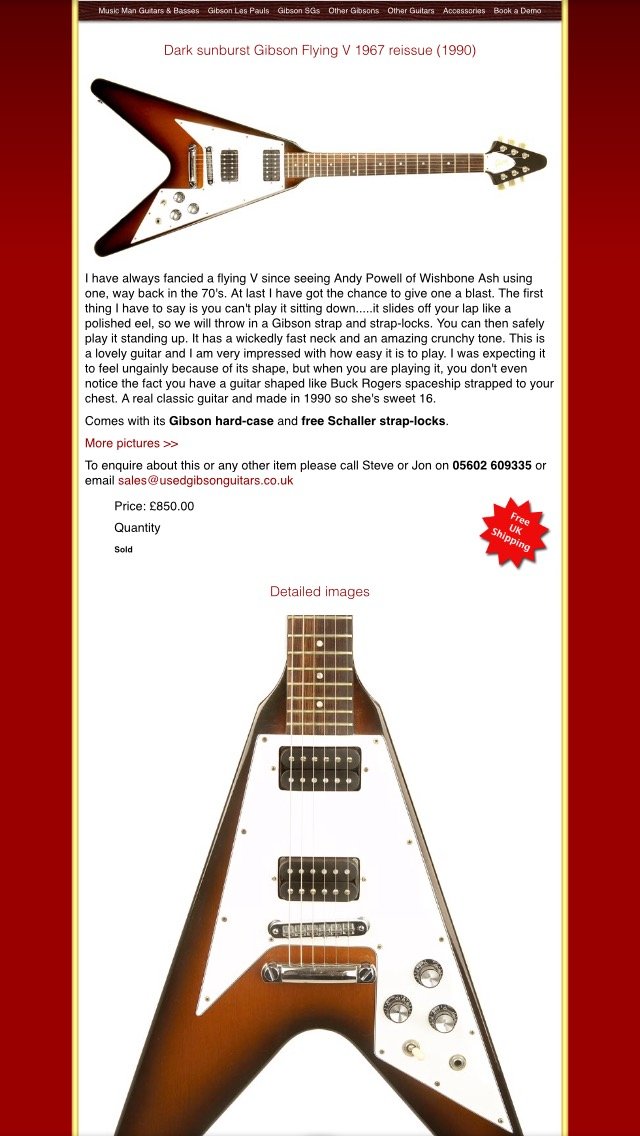 £850? OK, I called the seller and discussed the guitar, he was too far for me to travel so I agreed to ship it. There was a week long delay as I recall as some nasty bastard robbed the seller of all his guitars bar the V which I had just bought and he'd packed up and away.
The guitar arrived and I loved it. Just loved it. Played beautifully straight out of the case, looked amazing too.
The case was pretty badly damaged but it didn't matter.
I immediately added chrome covers to the pickups…because, well, it looked a 100 times better.
Being young and bit stupid with money, I fell into arrears with rent, food and all the other essentials and was forced to sell the guitar about three months and one gig later.
The buyer of the V struck a deal whereby I had to drive to southport and deliver the guitar and another amp I was selling too.
After an hour in the car with two of my bandmates, we arrived at a motorcycle showroom with some questionable employees, one of which was an old guy that had bought my V.
He tested the amp which had developed a bloody fault on the way…cheers. So further discount was done, reluctantly.
So the cash exchanged hands, I was gutted, my rent was paid though. I drove home thinking "it's cool, I'll get another one, there'll be another old sunburst V around the corner…"
Truth was, there wasn't another one. That was the only one I'd ever seen, that and one on the film "Airheads" where the black DJ is jamming before the radio station gets hijacked…remember it?
Anyway.
The guitar was gone and I was left with the photos I used for the eBay listing. I saved them under the title "hard going"
Fast forward to 2014, I was at a guitar show with my old man, a friend of mine had given me an Epiphone Flying V to sell for him, it wasn't worth much more than £80 and was a ballache to cart around and sell as no one wanted it. Another friend of mine had a stall at this particular show and kindly let me display it on there. We joked about how hard they are to sell and that no one wants them.
Not minutes after we joked about it, a scruffy looking bloke asked my mate if he wanted to buy a Flying V as he had my crappy Epiphone one on his stand…
He shouted over to me "Sam, you like your Flying V's don't you?! Do you want to buy one off this guy?"
I replied with…
"Unless it's my sunburst one I had years ago, then no."
The guy responsed with…
"It is Sunburst…"
I looked at the guy and didn't recognise him, then he pulled the V out of the case…it looked identical to my old one…
I asked where he got it from and he said he bought it from some lad from Chester in a black Mercedes and an amp too…
THAT WAS ME!!!
I exclaimed, he said, £850 and it's yours.
Now, having just become a father and it being the end of the month, that money didn't exist. I took his number and said I'd be in touch.
I tried my best to get cash together but it didn't happen.
About 6 months later, I saw this advert for a great guitar shop in Southport…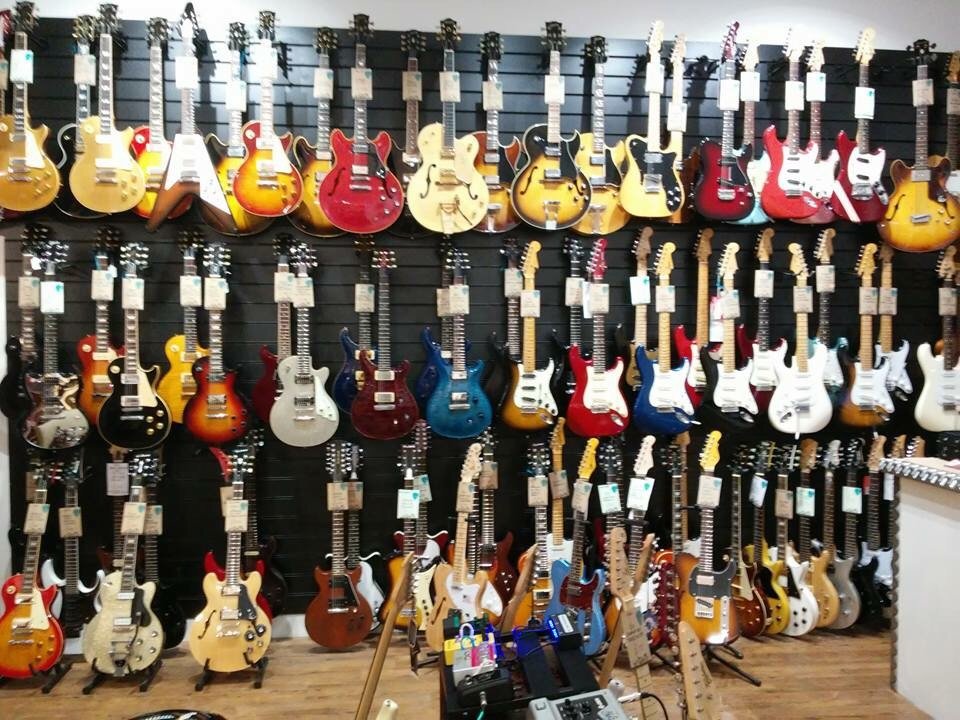 Dad's guitars in southport…had a sunburst V…was it mine?
I emailed them to check and sure enough, the guy had it in there on consignment…balls.
It was much more expensive now and even further out of my reach.
I had sold a Strat and had some cash, so I text the owner again…he still had it, two years after the show…I arranged a price and drove up to his home in Southport.
In his home, there was dust, dirt, dogs and fags…the car outside was covered in green mould…basically the guy lived in a shit tip…
My V was hanging up and looked in a sorry state. So I handed over the cash and was reunited with the best V I have ever played.
I got it home and tore it to bits…as…well, it stunk. Like really stunk. So, a major cleaning operation began…the guitar made my hands smell after minutes of holding it. Grim.
I wiped the case once with a cleaning wipe and this was the result…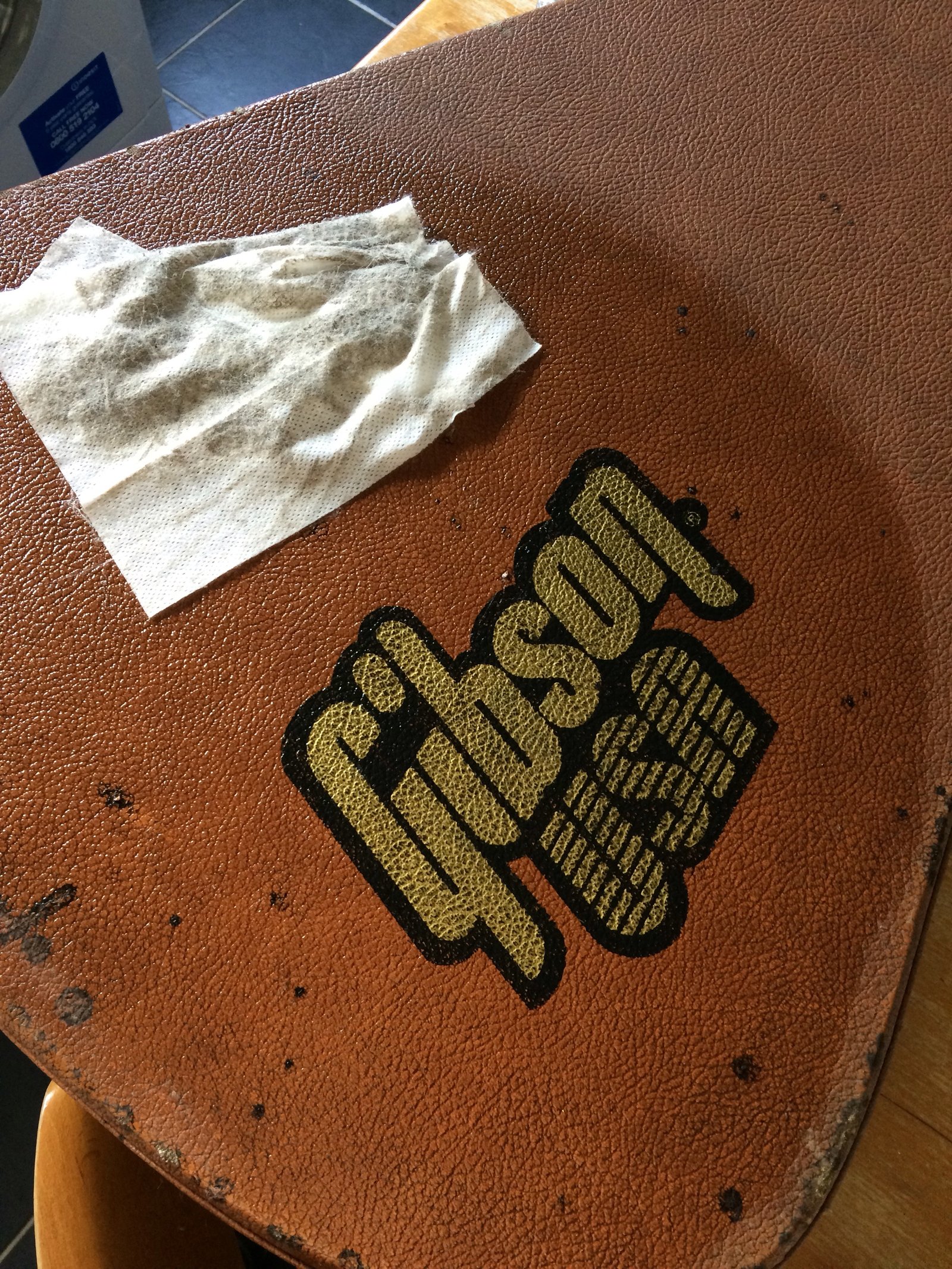 After dismantling the entire guitar to clean 9 years worth of nicotine off it, the finish came alive again, the pickguard crack is still there from when I had it and it's been glued back on now.
I polished up all the chrome, added some strap locks, polished the frets (which are as I left them back in 2008) lemon oiled the fretboard and stuck some 11's on it.
The guitar is completely stock, as it was when I got it, has the ceramic humbuckers which sound crap in Les Paul's but great in SG's and V's for some reason.
It also has a switchcraft switch and a trio of CTS pots.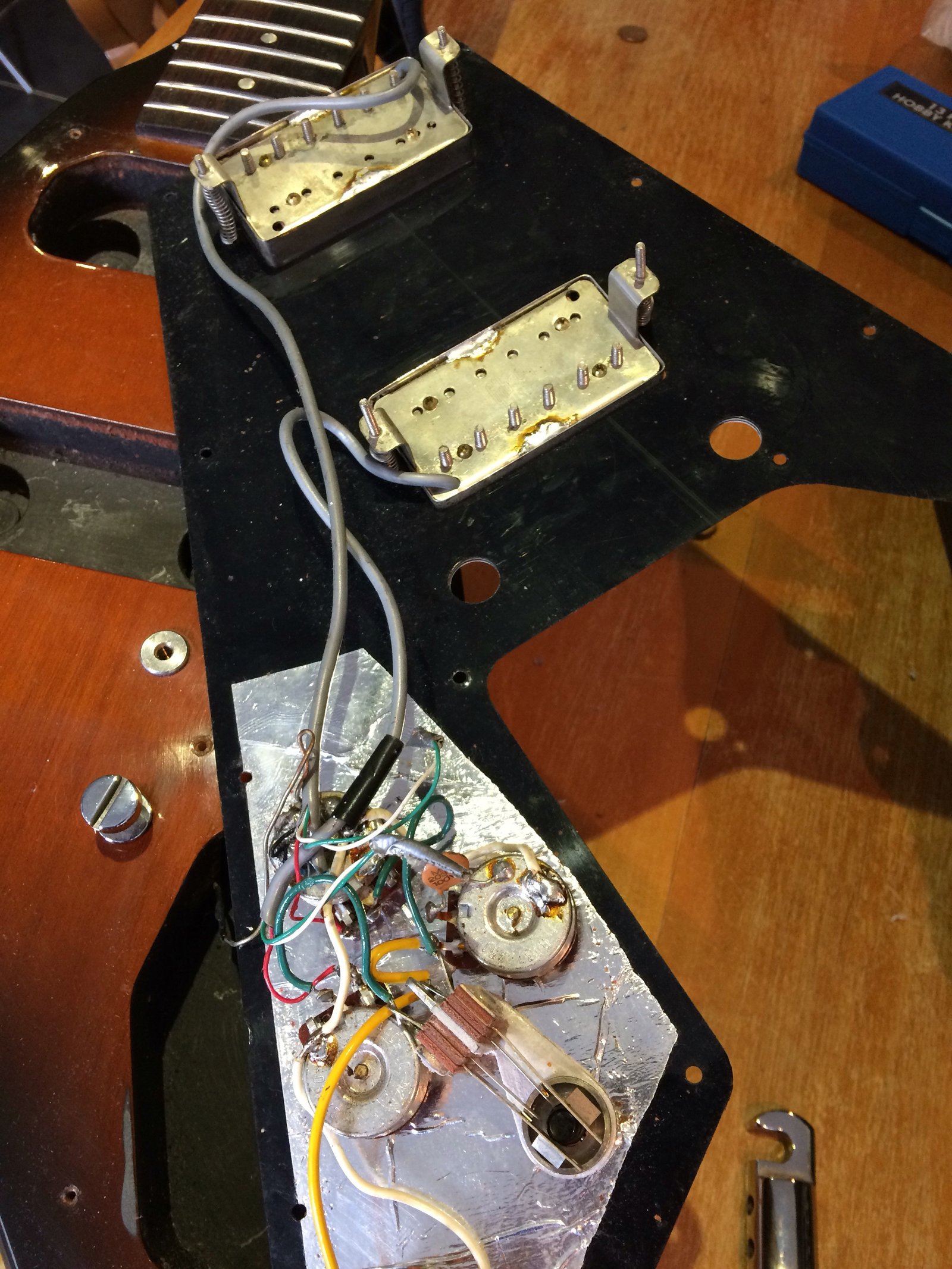 The other interesting point to note on the guitar is the machineheads are Grover, which, from research, were fitted as standard on these guitars. Also, the bridge is a Schaller unit, with a wire retainer. Again, as standard.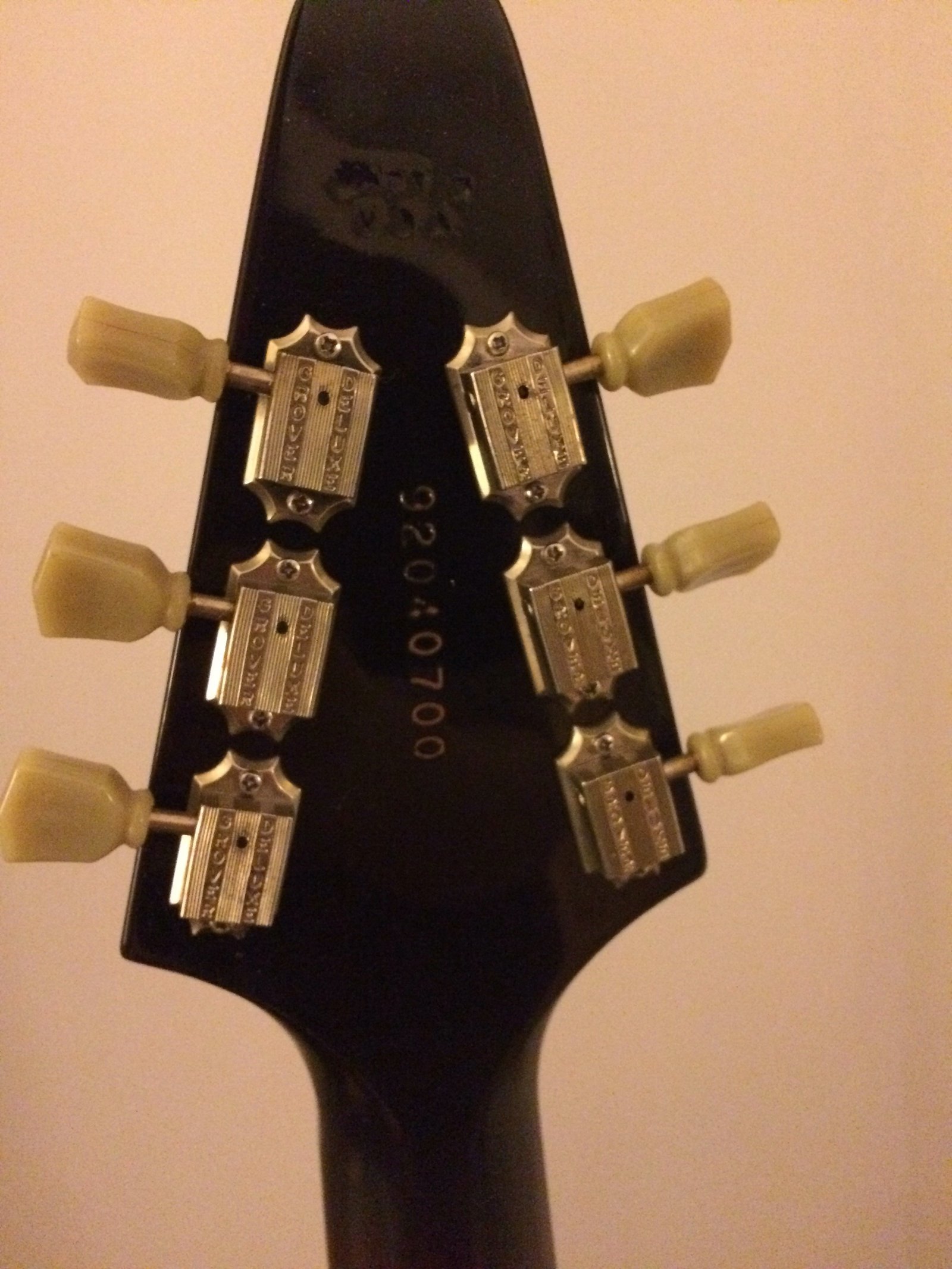 There are very few sunburst V's outside of the custom shop especially ones from 1990, they were only made from 1989-1990 and in very small numbers. How many exactly is anyone's guess but I have only ever seen three in my life.
As you can see, it is in fantastic condition for 26 years of age…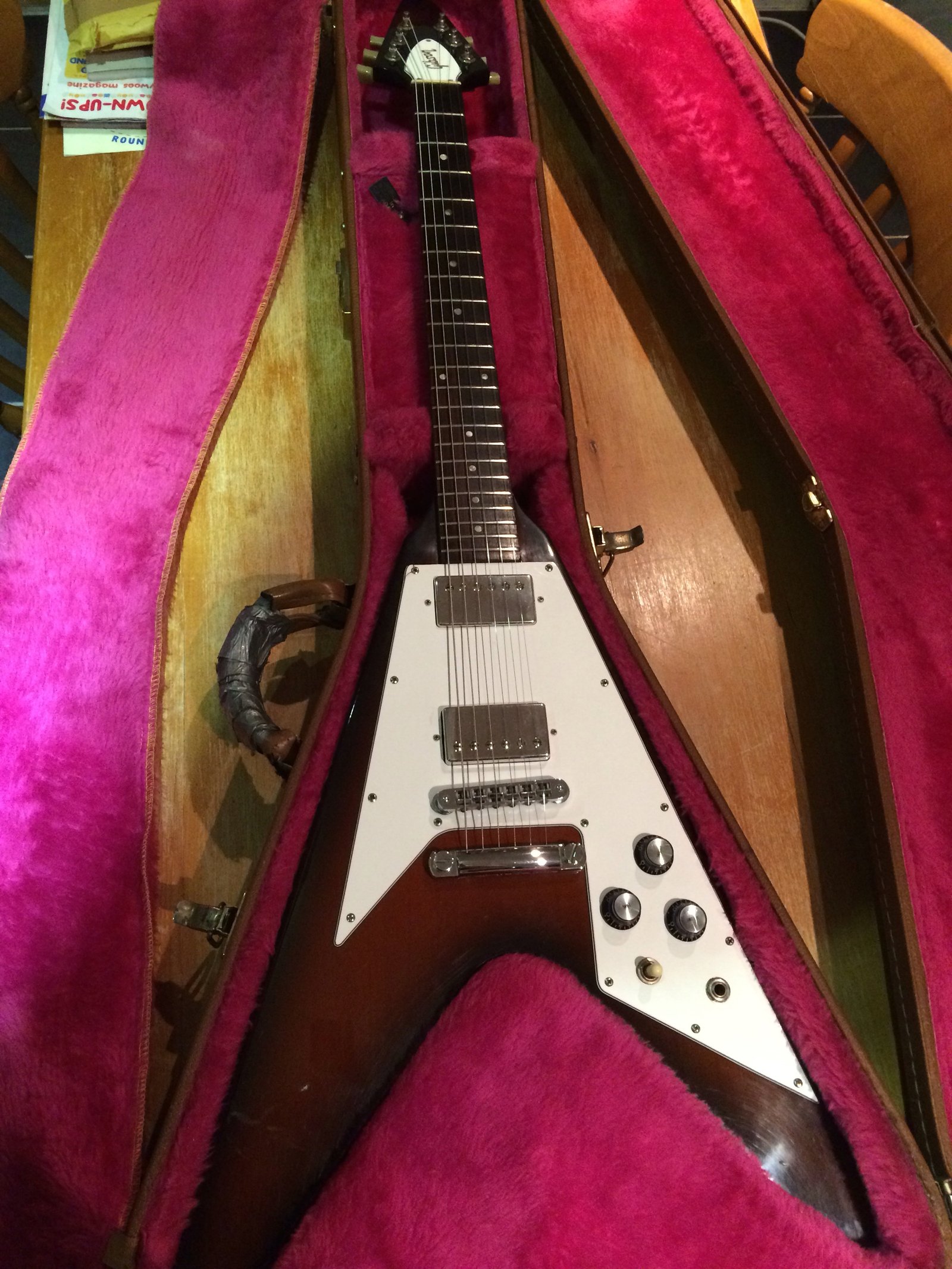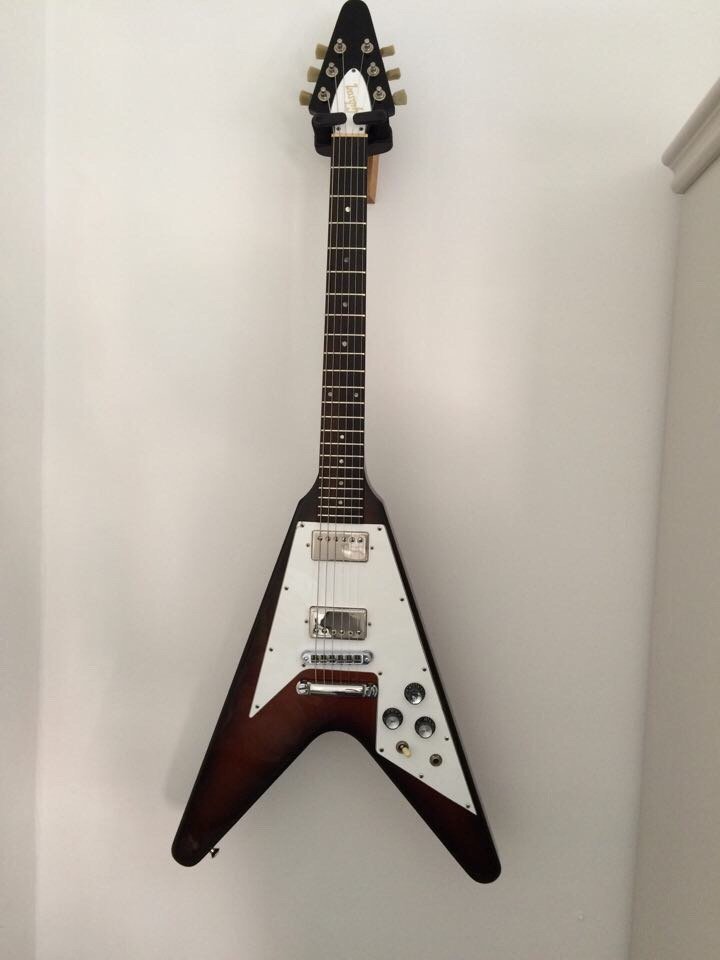 So, the V that flew home…I've got a few gigs lined up that I'll be using the V for…whether it stays with me for ever is yet to be seen…I'd hope so…but never say never…